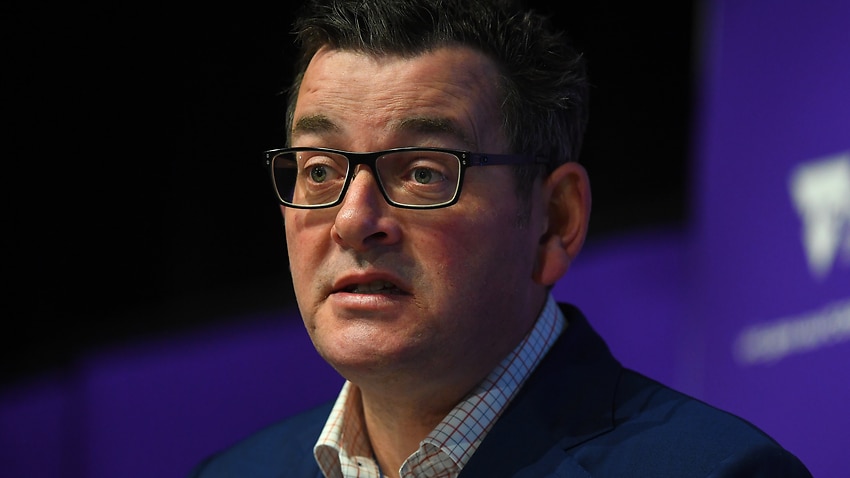 There have been 73 new COVID-19 cases recorded in Victoria, Premier Daniel Andrews announced on Wednesday.
"We really just need to impress upon all Victorians that this is not over. It won't be over for a long time," Mr Andrews said.
The new cases included;
Three from hotel quarantine
Nine associated with known and contained outbreaks
19 found through routine testing
42 remain under investigation
"It is pleasing that there is some sense of stability to these numbers," Mr Andrews said.
"We are finding new cases but there are the beginnings of some consistency here and that is obviously better than other options where we might see doubling and doubling again."
He said more than 20,000 tests were conducted on Tuesday.
"It is critically important to reiterate how important it is to get tested if you are sick and how grateful we all are for those who have come forward in an unprecedented number."
It comes as 36 suburbs across Melbourne are set to enter lockdown tonight.
"I again make the point I know and understand that this will be deeply inconvenient … It will be frustrating, it will be very challenging," Mr Andrews said.
"[But] ultimately, if I didn't shut down those postcodes, I'd be shutting down all postcodes and I don't think we want to get to that point."
"We all want to work hard, literally day and night to try and avoid that sort of an outcome."
Mr Andrews also said there had been "unacceptable infection control breaches in hotel quarantine".
"That's why we have cancelled those flights … It is why there have been changes made in the way hotel quarantine operates and we will have an inquiry to determine exactly what has gone on here."
Victorian Health Minister Jenny Mikakos said testing capacity was being expanded in and around the hotspot suburbs.
"In addition to the 22 existing testing sites that are available in or close to those restricted postcodes, we are in the process of opening at least 12 additional testing locations in those communities."
International flights into Victoria have been diverted for two weeks as a former judge begins an inquiry into the state's hotel quarantine program.
Since early in the pandemic, thousands of returned overseas travellers have spent a fortnight quarantined in hotel rooms as part of efforts to contain the spread of the coronavirus.
But it has been revealed the program fuelled outbreaks in the city's inner north.
Mr Andrews said testing indicated a very significant number of cases in late May and early June could be linked to a breach of infection control protocols by staff at these hotels.
The former judge who leads the probe into the operation of the hotel quarantine program will report back in eight to 10 weeks, he said.
In the meantime, the premier has asked Prime Minister Scott Morrison to divert international flights from the state for two weeks.
"I will have conversations with other state leaders to explain that and to thank them in advance of the extra load that they will carry," Mr Andrews said.
There was no detail immediately available on Tuesday night about where the diverted international flights would now land or how the passengers would be processed
The premier said he was disappointed to hear of breaches of infection control protocols by staff at quarantine hotels, which included instances of members sharing cigarette lighters.
"What might be seemingly innocent, quite low risk, it's not," Mr Andrews said.
"You might never even know that you had it but in the process, you've infected who knows how many people, particularly given if you are from a large family."
The hotel program will restart under the supervision of Corrections Victoria.
On Tuesday, there were 44 international flights scheduled to arrive in Melbourne, including 17 from New Zealand, 10 from China and eight from Qatar.
Opposition health spokeswoman Georgie Crozier said the inquiry into the "scandal-ridden" and "shambolic" program was overdue.
From Thursday, people living in 10 postcodes will return to stage three restrictions.
People in these postcodes will only be able to leave their homes for care or caregiving, to exercise, to purchase food and other essential items, or to go to work or school.
The restrictions will remain in place until at least 29 July.
People in Australia must stay at least 1.5 metres away from others. Check your state's restrictions on gathering limits.
Testing for coronavirus is now widely available across Australia. If you are experiencing cold or flu symptoms, arrange a test by calling your doctor or contact the Coronavirus Health Information Hotline on 1800 020 080.
The federal government's coronavirus tracing app COVIDSafe is available for download from your phone's app store.
SBS is committed to informing Australia's diverse communities about the latest COVID-19 developments. News and information is available in 63 languages at sbs.com.au/coronavirus.